A Guide to Acing Interviews [PART II]
VOLUME FIVE in the 2020-2021 RECRUITING GUIDE
Hello Friends!
And thank you so, so much for tuning into the fifth installment of my newsletter. I'm really exciting to create this kind of content for you, and I am passionate about providing resources and opportunities for students who face an uphill battle when it comes to applying to jobs, internships, and even college. In the coming weeks, I will also be posting content on college lifestyle and advice, as well as provide commentary on current events, politics, markets, and more.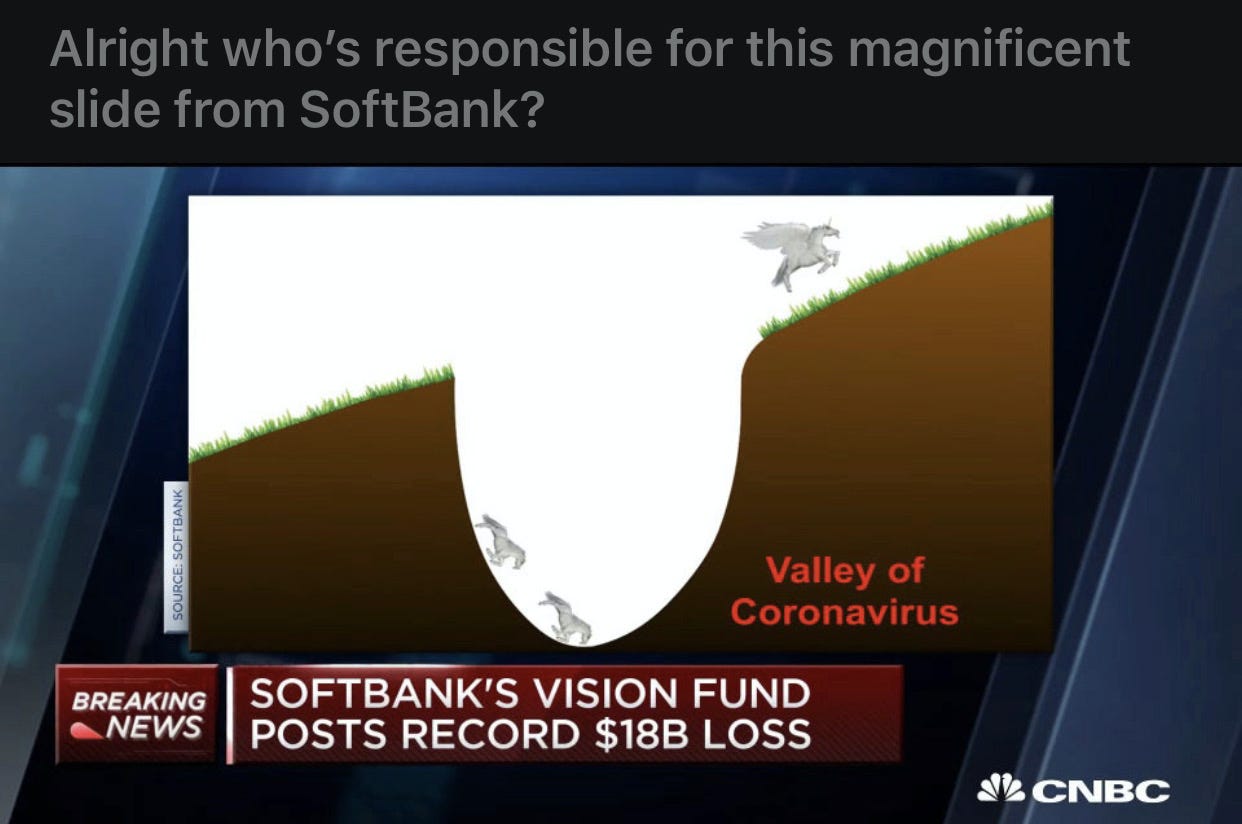 If you would like to be updated whenever I write new content, please click on the subscribe button. And if you are interested in receiving this content in a more visual format, I think you'd enjoy my YouTube channel as well 😊😊😊😊
On that note, in today's newsletter, I will be concluding my 'Interviewing Guide'.
So, with that said, let's dive right into it!
---
My 'Interview Guide' is divided into ten distinct sections, so please feel free to read section by section at your own pleasure. Part I will focus on the first five sections, and Part II - today's newsletter - will focus on the latter five.
Please note that my 'Interview Guide' will mostly focus on behavioral and cultural-fit interviews. Technical interviews range from casing and market-sizing to brain-teasers and coding challenges, and the sheer breadth of possible topics that can be examined would be too much to explore in the scope of [even] two separate newsletters.
That being said, Part II will cover general best practices in technical interviews, and in future newsletters I will be writing guides on how you can ace case interviews in consulting, product marketing + management, and other roles.
Moreover, if you are interested in learning about other technical formats in interviewing, please let me know in the comment section below! I would be more than happy to cover such topics in future newsletters and videos, and bring in guest expert speakers who can provide their analysis, experience, and insight.
Also: please feel free to skip and choose sections based on your individual experience and preference. You may be preparing for a final round interview with Goldman Sachs tomorrow morning, or you may have never been in a single interview your whole life.
No matter your familiarity with the concepts, read and interact with my content at whatever speed you are more comfortable with 😊😊😊😊
PART I [LINK]
What are 'interviews'

Getting started

Preparing for virtual interviews

Crafting your elevator pitch

Preparing for 'behavioral' interviews
PART II
Preparing for 'cultural-fit' interviews

Preparing for 'technical' interviews

What you should do 'after' the interview

How to 'practice' interviewing

Concluding thoughts
---
Preparing for 'cultural-fit' interviews
In the cultural fit interview, interviewers are trying to learn three things:
Do you embody the firm's 'culture' (its values, mission, principles)?

Are you pleasant to work with, and will others feel the same?

Would you fit in with your team and the wider organization?
Success in a cultural interview is all about authenticity.
Again, like with behavioral interviews, there aren't [necessarily] wrong answers.
But cultural fit interviews are really, really tricky. They're incredibly susceptible to bias (re: interviewers are more likely to favor candidates who resemble them physically, interpersonally, academically, professionally, etc.), and one interview won't be close to encapsulating the richness of your character, nor will it truly represent your ultimate 'fit' in the wider organization and company.
My honest advice is to be true to yourself, and to answer cultural-fit interview questions using your own voice and beliefs. I would not adjust your principles and values just to appease the interviewer and company. First, more often than not, interviewers tend to really respect candidates who are authentic and keep it candid. Second, even if they want to hear something different, would you want to work in a firm and a team that so unashamedly wants you to change who you are?
In the long run, you will grow dissatisfied with the firm and position, and you'll begin counting the days when you get to leave the firm and join something better. If you already get this feeling from an interview and from their company culture, the best thing you can do for yourself is jump ship and find the next best thing.
Obviously, however, I more than understand that this is a luxury the COVID-19 - and likely post COVID-19 - economy wholly lacks. My advice for you is to understand your priorities. Is getting a job your number one priority? And are you willing to bend your values to join a firm that will compensate you fairly for your work? Or is your goal to join a firm that truly resonates with your beliefs, and you are willing to sacrifice short-term employment for long-term fulfillment?
Both are equally valid; nobody can tell you otherwise. The most important thing, however, is to know what you want and why. Once you've determined your goals and priorities, the path becomes a bit more clear.
Regardless of which path you take, however, you can always benefit from the following best practices you can deploy to kill 'cultural-fit' interview questions.
---
Types of 'cultural-fit' interview questions
Firm/Candidate Specific:
Why our firm? Why this job? Why this particular team?

Why you? Be specific.

What are your long-term goals?

What do you do for fun? What are your hobbies, interests?
Values, Beliefs, and Behaviors
Do believe it's better to work fast or get the job done right?

Do you believe in the adage "the customer is always right?"

How would you deal with an unruly customer? Boss?

How do you deal with stress/pressure?

In what type of work environment are you most happy and productive?

What is the ideal team for you? The ideal leader?

What were the positives and negatives of your previous work environment?

How would your friends + co-workers describe you?

Tell me about a time when you disagreed with a supervisor.

A client asks you to give his daughter an internship in your team. How do you respond to him and handle this situation?
This isn't an all-encompassing list, but in general firm/candidate specific questions are the most frequently asked.
---
Consistently acing 'cultural-fit' interview questions
You may notice that the latter type of cultural-fit questions are quite similar to behavioral ones. You can employ the STAR framework for questions like these, but what framework can you use when your interviewer asks "why you?"
For more personal questions, using frameworks like STAR can seem pretty stiff. And that's why these kinds of questions are trickier; there's no script to follow.
Just be… you.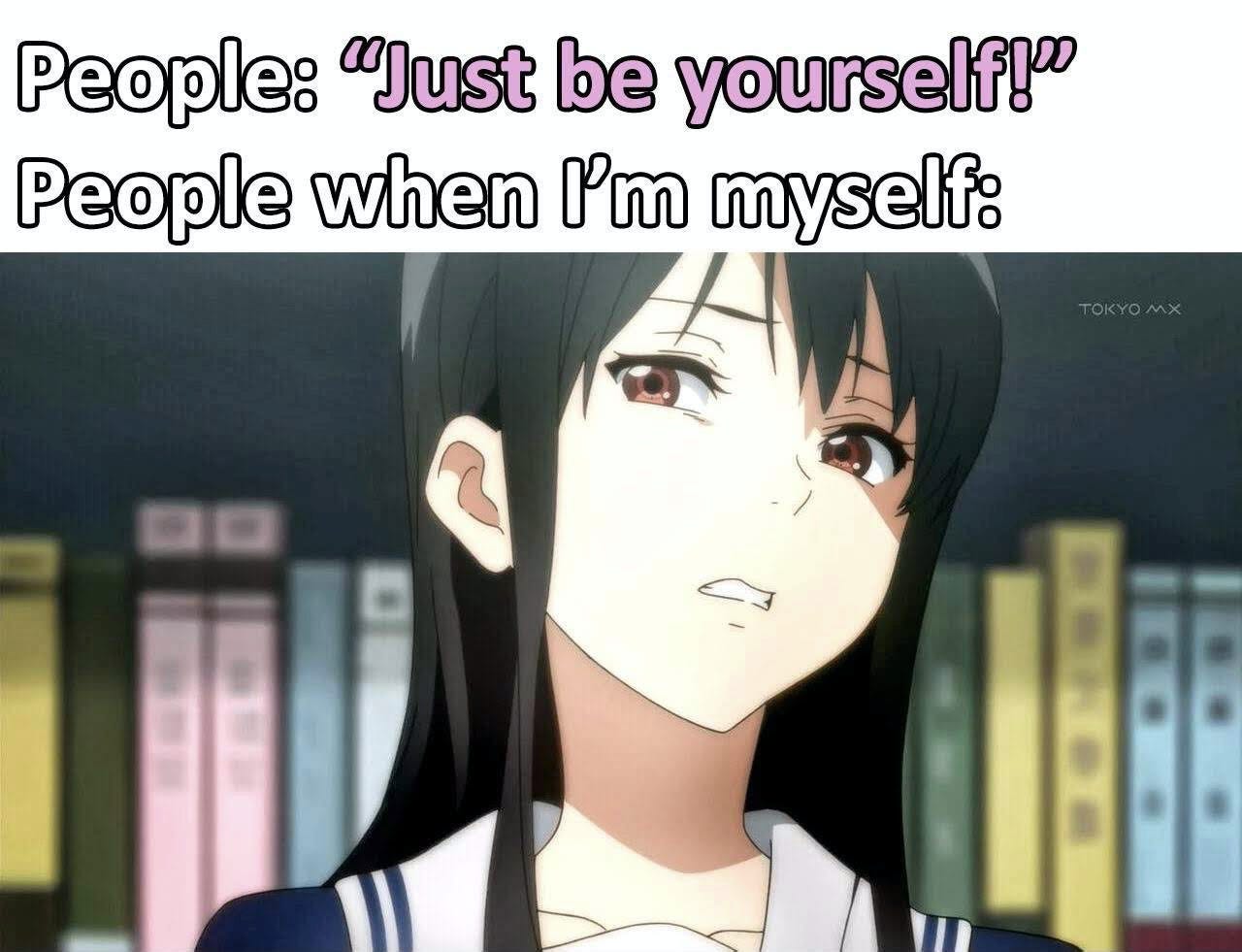 Okay, I know how that sounds. Let it be known that I am NOT a fan of generic and vague advice, but sadly: it be like that. There's no formula, no one trick, to these kinds of things.
Company culture is especially nebulous, and what your interviewers value and are looking for is, more often than not, a complete mystery.
With that said, here are my two cents from being interviewed a hundred times plus over the past four years (as well as another few hundred conducting interviews myself): people constantly try to please others. I've done it. I've seen it.
But in the times I've landed amazing offers, and in the times I've been incredibly impressed by younger class-mates who absolutely killed the interview, I've picked up on one thing that's always stayed constant: being genuine is 100% key.
Like I mentioned before, if they didn't like that: good. They didn't deserve you anyway, and they showed themselves out. You will not be happy at a firm, or in any environment for that matter, that doesn't value you for who you are.
The next step then, you may be wondering, is how you can express your true authentic self in the interview when answering these sorts of questions.
I could say "speak from your heart" and wrap this section up lickety-split, but I won't do you like that. Instead, I suggest you orient your answer - in a story-telling format, as you would with behavioral interviews - to be inclusive of the following qualities:
Initiative: are you naturally inclined to solve problems, intellectually curious, and energized when presented with opportunity and challenge?

Passion: are you inspired and energized by your work, and is that energy and happiness for what you do infectious to fellow team-mates? Do you love what you do, and does that interest make you, in turn, an interesting person as well?

Empathy: are you able to read the room and empathetically solve problems? Can you mend team conflicts, bridge the gap between opposing parties, truly understand the customer, and manage conflicting stakeholder interests?

Grit: do you have the energy to move yourself and others around you to do the best you can do, and sustain that for prolonged periods of time? Do you cave in to setbacks, or will you rise to the occasion when it's your turn to bat?
When asked "why you" or "why this company" or "how would your friends/family describe you" or "what is your ideal team/manager/boss/co-worker look like" or any possible variation thereof, you can't go wrong with these kinds of qualities.
Most importantly, telling authentic stories that come from your heart (and I oop— looks like I did have to play the 'vague' card) and demonstrate these valuable, admirable traits will help you stand out. Many candidates aren't able to structure their thoughts to these tough questions, and for good reason; there isn't much of a structure one can rely on in the first place. But if you keep these qualities in the back of your mind as you find stories worth sharing with your interviewer, you will be able to paint a much more compelling, and authentic, case for your candidacy.
---
Bad example of how to answer 'cultural-fit' interview questions
Question 1: Why consulting? And why Accenture Strategy?
Answer 1: Consulting is a really prestigious job. Everybody I know wants to do it. It pays well, I'd get to travel the world, and advise F100 clients on all things strategy and operations. I know the work is tough, but I'm tougher and know I can do a good job serving clients, team-mates, and MDs and managers who need me at my 100%, 100% of the time. It's this challenge that will really push me out of my comfort zone, and I definitely want to work in an environment that will challenge my limits.
Question 2: And how about Accenture?
Answer 2: Yes, thanks for reminding me. Accenture is a great company. It's really gotten more and more popular over the years, and that's because it keeps raking in great projects and deals. I have a lot of friends in the firm who really love it, and are always excited by the challenges and opportunities the firm provides to its employees.
NOTE: Notice the lack of a story. Besides repeating common talking points about the merits of consulting, the lack of a story makes the candidate seem more impersonal than they really are. I'm sure the candidate is a much more nuanced character than the one we see in the example above. But just as you may have formed opinions of this character - right or wrong - so too is the interviewer doing the exact same thing. Don't be impersonal; tell your story! The candidate also forgot the second question, and had to be reminded. The interviewer, you may have noticed, intentionally left out the "Strategy" in the "Why Accenture Strategy" question. This was strategic; Accenture Strategy is highly different from Accenture Consulting (and if you're interested in why and how that's the case, I'd be more than happy to do a deep dive on Accenture Recruiting and answer this question and more in a future newsletter!), and he/she is testing the candidate to see if they are actually excited about the specific role they're applying to OR if they see the company and its many teams as a monolith. The candidate FAILED to answer the second question, and by keeping it vague they showed they didn't really care about the team, or simply were unaware of what team they were applying to in the first case. Either way, both cases are unacceptable.
---
Good example of how to answer 'cultural-fit' interview questions
Question: Why consulting? And why Accenture Strategy?
Answer: Ever since I started college, I haven't had a clue what I wanted to do. I love entrepreneurship; I launched an ed-tech startup with my friends my freshman year advising students and schools on navigating the college application process. But I also love corporate strategy and M&A; I worked with Comcast-NBCU on investing in startups specializing in advertising in AR/VR, and with J.P. Morgan in Technology M&A. I love learning, and I don't want to be pigeonholed into any one industry or field, and that's why I'm recruiting for consulting. The work is challenging but highly rewarding and informative, you get to work with the globe's best and brightest inside the firm and outside with clients, and, best of all, you get to constantly explore all kinds of industries, functions, and roles.
Accenture, in particular, has an incredible presence in technology across digital. As someone who grew up in Silicon Valley, I want to work with a firm that truly values innovation. Accenture is at the forefront of this kind of change, that's evident in not only the projects you carry out - and how you serve your clients - but also in how you have transformed your own company. Within a week of COVID-19 breaking out in NYC, Accenture built from scratch a digital dashboard called 'People + Connect Plus', which utilized AI/ML technologies to match displaced workers with opportunities that aligned with their skills and talents. My mentors in the firm also share to me some of their projects in which they've done everything from advising F500 on market entry to helping startups achieve breakthrough advances in cloud computing and cyber security operations for large-scale enterprise clients. I find this nothing short of exciting, and Accenture's tremendous growth over the past decade - and its continued momentum moving forward - is really attractive to me as a college student turned postgrad looking to make a difference in an ever-changing economy.
NOTE: Was I this verbose when I answered this question? Absolutely not. But in general, my story - why I love learning, my seemingly random internship experiences coalescing into the realization that I wanted to work in a job that would allow me to flex my creative and intellectual muscle - and Accenture's story - a company that found its beat working in the most disruptive spaces in technology and innovation - were elements I heavily stressed when answering "why consulting" and "why Accenture Strategy." Tying your story to qualities like "initiative" and "passion" are also critical unifying features that will help your true intent shine and make you stand out.
---
How should you prepare
I definitely recommend practicing rehearsing common questions (re: see above), and on top of running mock interview sessions you can also keep the following best practices and guidelines in mind:
Do your research: to find out what the company values, get that information straight from the source through coffee chats and networking. Check out the Glassdoor and other secondary sources to see employee reviews and thoughts if you are unable to secure a coffee chat, and read news articles about the company if you need further inspiration/data.

Work smart and hard, not hard: Firms can ask you literally millions of variations and types of cultural and behavioral interview questions. Coffee chats and firm connections can help you pinpoint what types of questions are asked, and so can resources like Glassdoor, Wall Street Oasis, and more.

ASK QUESTIONS: at the end of the interview, always ask questions (this demonstrates passion and curiosity for the role and company). Don't worry: this guide will go into detail just exactly what kind of questions you should ask!
---
Preparing for 'technical' interviews
In the technical interview, interviewers are trying to learn three things:
Do you have the skills/experience/knowledge needed for the job

How proficient/advanced are you in said skills needed for the job

How do you analytically solve problems and adapt accordingly
Success in a technical interview is all about consistency.
Here, unlike in behavioral and cultural interviews, there are objectively wrong answers and right answers. Nevertheless, wrong answers aren't necessarily a death sentence - technical interviews can be notoriously brutal, and sometimes learning from your mistakes and adjusting accordingly is what the interviewer is actually trying to test.
But let's not kid ourselves: getting the right answer is always preferable. And the key is consistently getting the right answer to a range of possible questions.
As I mentioned earlier, having a newsletter devoted to particular styles of technical interviews is certainly on my bucket-list - especially for case interviews and technical finance/investment banking questions - so for now I will briefly go over the types of technical interview formats. As always, if you'd like to dig deeper on any one particular style: please let me know in the comment section below :) :) :) :)
---
Coding Interviews
Deployed in SWE (software engineering) and other technical roles (re: technical product/program managers, product analysts, etc.), coding interviews challenge your understanding and mastery of computer science concepts and computer programming applications. You may be expected to write the code in a real-time, collaborative editor (phone screen, interview-furnished laptop) or on a whiteboard (on-site), and will have anywhere from 30 to 45 minutes to solve the technical challenge.
Case Interviews
The bread and butter of the consulting recruiting world, case interviews are also increasingly being used in product management interviews as well. Case interviews can be written or oral, with the latter being far more common. Written case interviews give candidates an extended period of time - which can last anywhere from a day to an entire week - to prepare their analysis and presentation to a panel of interviewers on a recommended solution and strategy. Oral case interviews are far more common, and involve the interviewer providing a short business case for the candidate to solve. As I previously mentioned, case interviews themselves deserve an entire newsletter to explore and dissect, so if this is something you'd be interested in let me know :)
Finance Interviews
The classic "walk me through a DCF" has been a question since investment bankers first figured out how Excel works, and since then there hasn't been much innovation in the kinds of questions finance positions ask during interviews. Again, this section does deserve its own newsletter, so please let me know if this is something you'd be interested in learning more about!
Conceptual Interviews
Conceptual technical interview questions are the ones you can see in any role for any team and company. These include riddles and brain teasers, market sizing questions, and conceptual problems that focus on analytical and creative problem solving, rather than a mastery of a particular technical or business principle. They are more common in the world of consulting, investment banking, private equity, hedge funds, quantitative trading, venture capital, and product management (re: prestige nerds), but don't be surprised if these questions pop up in startups and student clubs.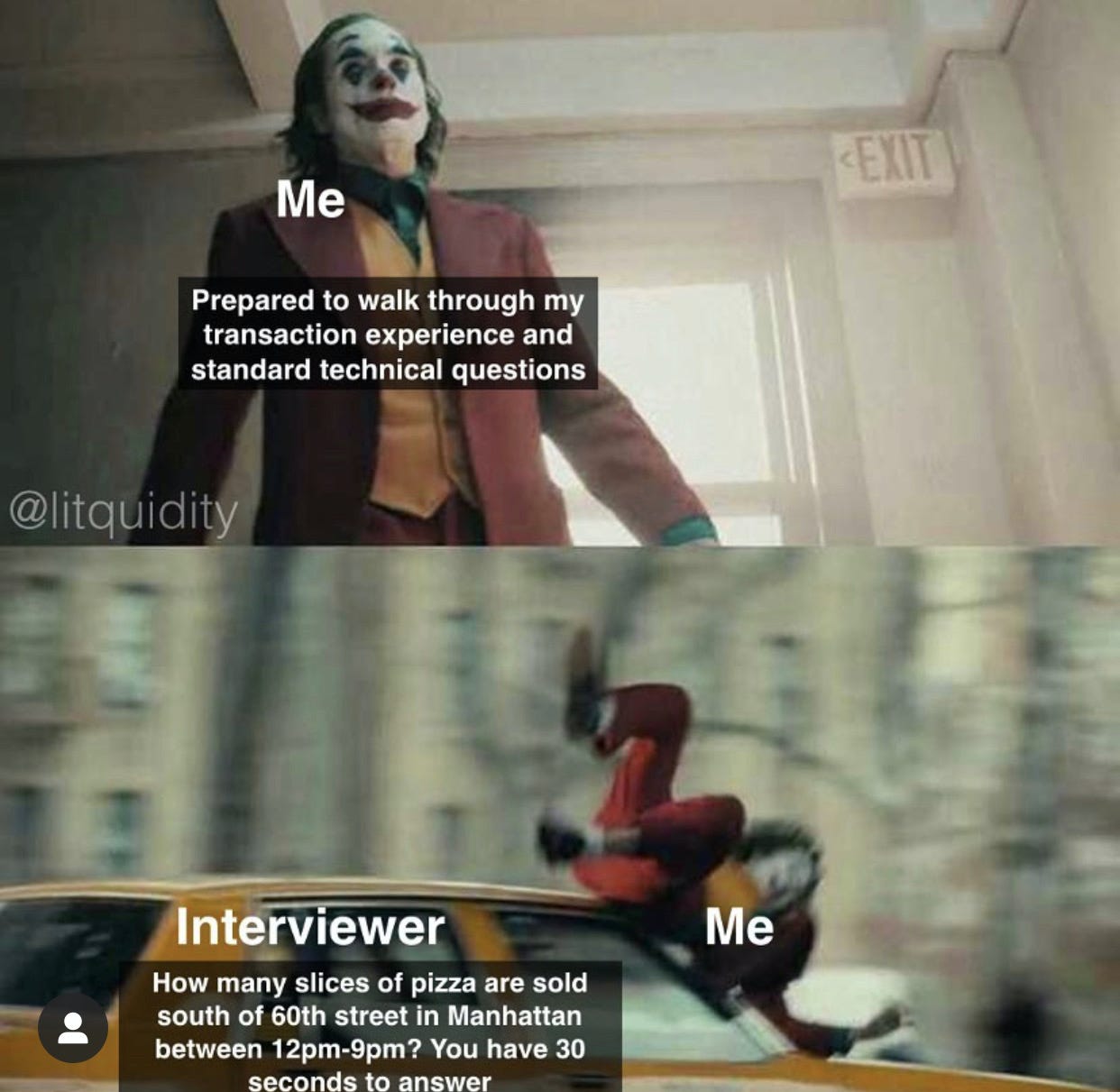 ---
What to do 'after' the interview
Ah, they're finally done asking you questions. As you breathe a sigh of relief and are ready to depart, the interviewer asks you that last dreaded question:
"Do you have any questions for us?"
The interview isn't over until the fat lady sings - and by the proverbial fat lady, I mean when the company tells you if you ultimately got the offer or not.
In this section, we'll go over best practices for how you can best exit your interview and optimize your relationship with the firm and recruiter during the nerve-wracking, interstitial phase of agonizing over whether you got the job/internship or not.
---
Step 1: Ask questions. Not asking questions at the end of your interviewer is a HUGE MISTAKE. Asking questions indicates interest, passion, and curiosity. Not asking questions indicates laziness and a lack of initiative and interest for the role.
GOOD QUESTIONS
What are the role's day-to-day responsibilities like?

What are the company's values, and what do you look for in employees who live out these particularly values?

What is your favorite part about your job? What do you enjoy most about working in COMPANY X?

What does success look like in this position, and how do you measure it?

What is the most challenging part about this job?

How is COMPANY X committed to diversity & inclusion / sustainability / etc. [if you bring up relevant examples of what the company has done, bonus points for impressing your interviewer and doing your HW]

When can I expect to hear back from you?
BAD QUESTIONS
How much are you paid?

Do you like your job?

Are you thinking of moving jobs soon?

I heard COMPANY Y does ABC. Why aren't you doing the same?

How hard do I need to work to get promoted and move up?

Did I get the internship / job?
Good questions focus on the individual and their story, path, and experiences. Bad questions are vague, can be answered with a yes or no, and are generally irrelevant. This is where you can personally find more about the company; you are as much interviewing them as they are unto you. Use this Q&A session to your advantage!
---
Step 2: Thank them for their time. Do so at the very end of your interview, and then send them a thank you note no later than 24 hours after. If this is a final round interview, I even suggest hand-writing a letter and delivering it to their front office. You can write this letter immediately after your interviews in the company lobby or waiting area, and kindly ask the front desk to deliver it to your interviewer. Be specific: mention the little details in your interviews - what you've learned from them, how you are inspired, how you are so excited about the team and role from listening to them speak - and be sure to thank them for their time, energy, and enthusiasm.
Step 3: Ask for feedback. This step, in my opinion, is optional. Many firms are too busy to provide feedback, and others make it an official policy not to do so (otherwise, they may be spending more time writing feedback than actually recruiting). If you are applying to a smaller and more intimate firm, however, then the odds of them actually providing feedback when requested is much higher. Indeed, doing so may help you understand your strengths and weaknesses from an objective third party.
Step 4: Follow up. This is the worst part of recruiting; you've seemingly smashed your final round interviews, and are excited to learn about the final decision. As you wait, hours turn into days, and days turn into weeks, and before you know it you've realized you've been GHOSTED. I don't know why companies do this, but it's as pervasive as it is unfair and lazy. Companies need to do a better job at being considerate to candidates, but many times companies - especially larger ones - will ghost interviewees and never get back to them. I would always ask the interviewer when you can expect to hear results, but if you weren't able to I would generally wait up until at most one business week until sending an email to the recruiter to follow up.
Step 5.1: If you get the offer, CONGRATS! If you're still recruiting, check with your career center to learn official guidelines on accepting offers vs continuing to compete for additional opportunities and using your initial offer as leverage for future ones.
Step 5.2: And if you don't, IT SUCKS. I know how it feels. But this is not an admission of your inability to do the job, your inadequacy as a student, or your failure as a candidate. There are +1,001 reasons you may not have gotten the offer.
Improve. Adapt. Overcome. Practice, and over time you will begin getting THAT BREAD. If you find yourself struggling to seal the deal in your interviews, set up more time to practice, identify your weak points, and practice, practice, practice.
On that note, hop on to the next section to learn precisely how to do just that.
---
How to practice 'before' your interview
First, I'd suggest forming your elevator pitch, 3-5 core stories, and responses to common cultural-fit questions (re: why you, why us, etc.) and practicing them by yourself until you can consistently + articulately present yourself. You can present in front of the mirror or video tape yourself so you can see your own performance. I know there is no greater agony in this world than hearing your own voice, but trust me: by doing this, you will be able to notice small, subtle cues - lack of eye contact, random voice intonations, etc. - that will help you adjust your delivery and approach.
Second, begin practicing with friends and mentors. Have them interview you, and then flip the script by interviewing them. On top of helping them out with their interviews, there is another critical reason for doing this; by taking on the side of the interviewer, you will begin to pick up subtle cues you'd miss in the heat of the moment as an interviewee. Moreover, by putting yourself in the interviewers' shoes, you will have a much better and richer understanding of what interviewers are looking for. You may notice that your friend is more rambly than they should be, not getting to the point. Or you may notice their lack of story and structure in their responses. Either way, you begin picking up things only interviewers pick up, and this will help you become a more conscientious and empathetic interviewee yourself.
Third, after the mock interview sessions, you and your partner should be able to provide meaningful, actionable feedback.
Good feedback accomplishes the following:
Identify strengths: give specific examples, and highlight where particular answers were really strong and stood out.

Identify weaknesses: again, provide specific, identifiable examples for areas for improvement. Highlight particular responses that negatively stood out.

Provide next steps for improvement: after pinpointing specific areas for improvement, offer suggestions and recommendations that will help the interviewee see what they're doing wrong and how they can fix it.
If you're curious about learning what separates good feedback from the bad, you can see some examples below that may be helpful.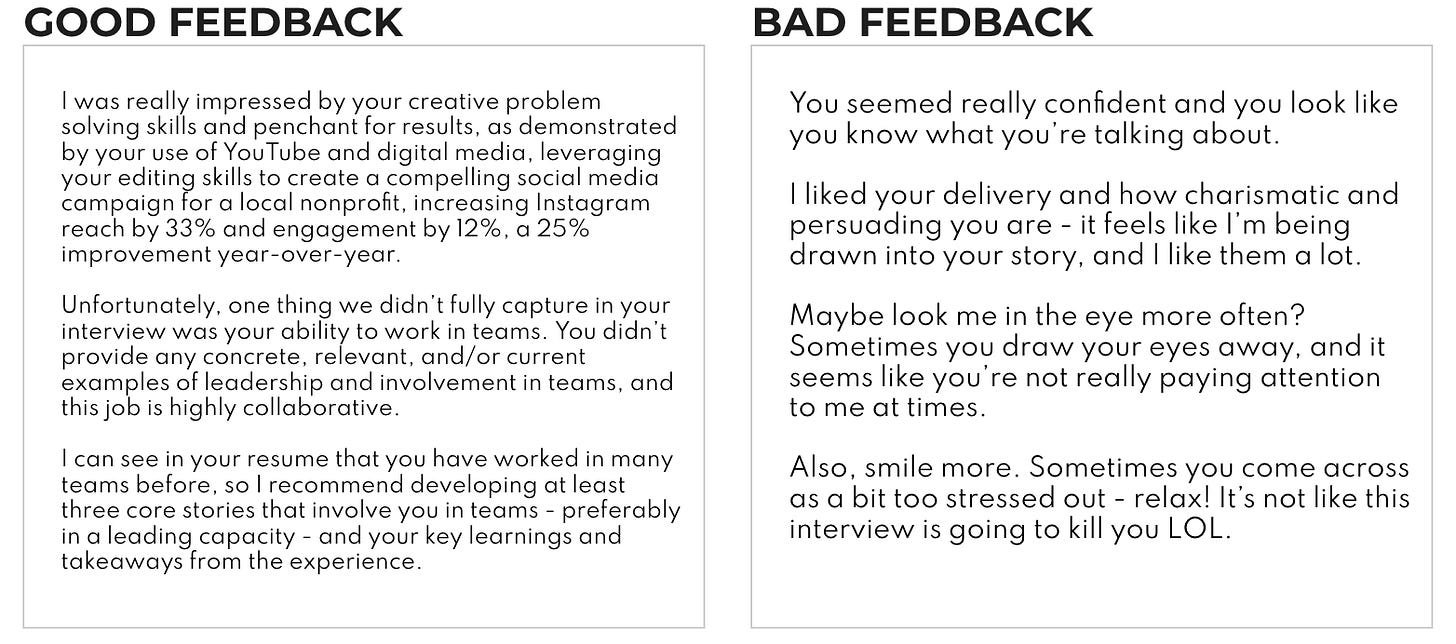 And of course, don't take feedback too personally. This especially applies if someone more random - like a career counselor or a person you just coffee chatted - critiques you. They're doing it because they want you to succeed - they took the time to help you out, and they don't want you to fail. And if a friend or mentor point something out that upsets you, understand that it wasn't remotely close to their intention of doing so. They all want you to succeed, and trust me: you're going to get knocked down A LOT by others in the workplace. Not everybody will be as supportive and helpful as your friends and family. Cherish them.
And if you don't have these resources, please do not hesitate to reach out to me. I would love to help out, any way I can!
---
Concluding Thoughts
Interviews are the most nerve-wracking part of the recruiting process.
This is it. This is your make-it-or-break-it moment.
Except it really isn't. Whether it's your first interviewing or your 1000th, one thing is for certain; through practice and time, you will get better.
I have objectively bombed interviews yet still landed the offer, and have objectively crushed my super-days only to be ghosted for the next half of the year (true story, I don't want to name names or anything *ahem Lazard*).
There are so many reasons you could have been rejected. More often than not, it's not because you suck. Okay, maybe you did suck in that one interview. But chances are, you put your heart and effort and all that blood, sweat, and tears didn't pay off.
I personally know what that feels like. I've been rejected by way more firms than those that extended me an offer and gave me a chance to prove myself. I've lost track how many times I've emptily stared at my laptop and phone screens, waiting for an email or a call, knowing all the same I wasn't getting good news anytime soon.
Those times will come to an end. Keep on pushing yourself. Keep practicing. Keep putting yourself out there. Network and coffee chat. Ask your friends and mentors to conduct mock interviews with you. Take a break and recharge from recruiting.
I'm not going to tell you things are going to get better. Only you can tell yourself that.
But along the way, please don't hesitate to reach out for help + support.
You're not alone. And if you are, you shouldn't be. Reach out: I'd love to help :)